This webinar will offer unique perspectives on regeneration through Integral Design and the Earth Charter in Action. Our guest speakers will share examples of how regenerative climate parks and education programmes based on the Earth Charter are addressing environmental and social challenges in South Africa and Lesotho.
Bjorn will share lessons in leadership on global citizenship from his recently published book The Midgard Viking Expedition – the Search for Intelligent Life on Earth.
Janika will share her experience in connecting education, food security, regeneration with the Earth Charter Ethics.
Their work represents intergenerational exchange and learning.
The webinar will address the following questions:
What are integral design and regenerative projects?
Can you share one example of a regenerative project in which you use the Earth Charter?
What is your perspective on the value of the Earth Charter to current times?
What are the connections you are making between education, food security, sustainability and design?
What are the key ideas you explore in the book you published this year "The Midgard Expedition- the Search for Intelligent Life in Earth?"
Speakers:
Bjorn Heyerdahl is the CEO of Integral Climate Change Solutions (ICCS) and founder of Midgard Expeditions. He is an active explorer, environmentalist, biospheric designer and consultant on humanitarian, environmental and development issues. Through the Integral Climate Change Solutions, Bjørn has been implementing integral design using the Earth Charter as a guide.
Janika Heyerdahl is a high school biological science educator with a BSc in Biochemistry and Honours in Biological Sciences at University of Cape Town. She started a few school projects on education for sustainable development such as looking at long term grazing regimes and carbon sequestration potential in the Karoo in South Africa as well as the ecological impact of the 'Banting' diet. She is an alumna of the Programme on Education for Sustainable Development with the Earth Charter Education Center. Her latest work has taken her deeper into the spiritual and moral underpinnings of pro environmental/ sustainable behaviors in the form of her Master's thesis.
Moderator:
Alide Roerink (The Netherlands) is an anthropologist and has been involved over the years in networking, advocacy, and policy development for gender justice, international solidarity, and global governance. Alide Roerink initiated and co-edited the book Earth Charter in Action: Towards a Sustainable World. Alide Roerink was advisor to the Earth Charter Initiative before she joined the Council.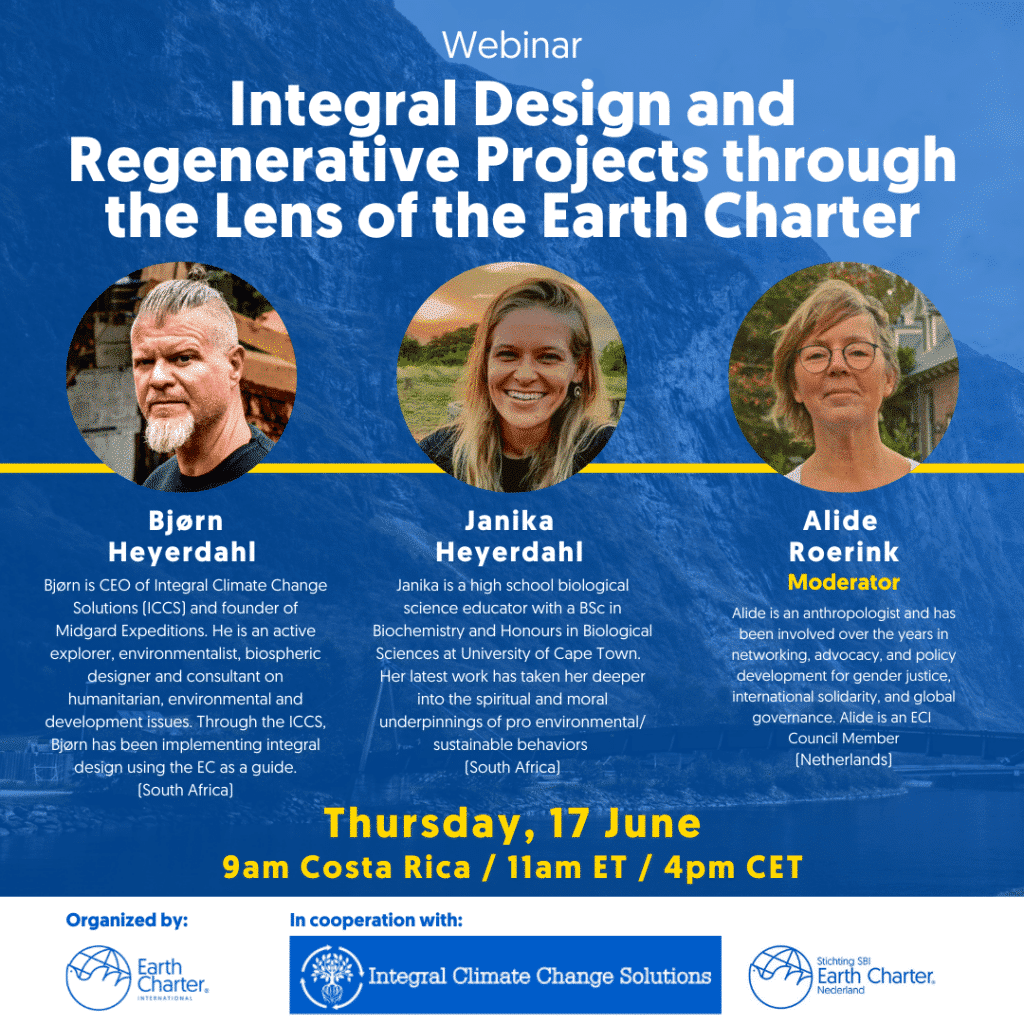 Earth Charter Nederland
Landgoed Zonheuvel
Amersfoortseweg 98
3941 EP Doorn
Schrijf je in voor de nieuwsbrief